SOME RECENT PROJECTS AND IDEAS
house in the hills
a concept for street lighting, L.A. Lights the Way
a book cover design for a friend who loves grids, interesting to see how trees lie on a grid
a few ideas about fences, did Tom Sawyer paint the fence? Good fences
are
good neighbours.
A colourful and dynamic title wall composed of vintage colours and geometries.
MODERN IN THE MAKING


In the three decades following WWII, thousands of people moved to British Columbia seeking the benefits of its resource-based economy, mild climate, natural amenities and inventive spirit. In this optimistic post-war environment, unique aspects of culture began to develop throughout the province. While histories of BC modern art and architecture have been investigated through exhibitions and publications over the last several decades, the equally proliferous postwar craft and design activities that also reflect many of the modern characteristics of the visual arts, remain largely undocumented. This exhibition aims to identify the most significant and unique examples of BC furniture, jewelry, fashion, ceramics and textiles produced between 1945 and the 1970s and articulate how and why these emerged in British Columbia during that time.
Working with
Oliver Tomas
we looked at many possible floor plan layouts that might work to display more than 200 pieces of modern craft made in British Columbia.
...we recognized that with such a variety of objects and sizes of objects a very flexible display system would need to be devised.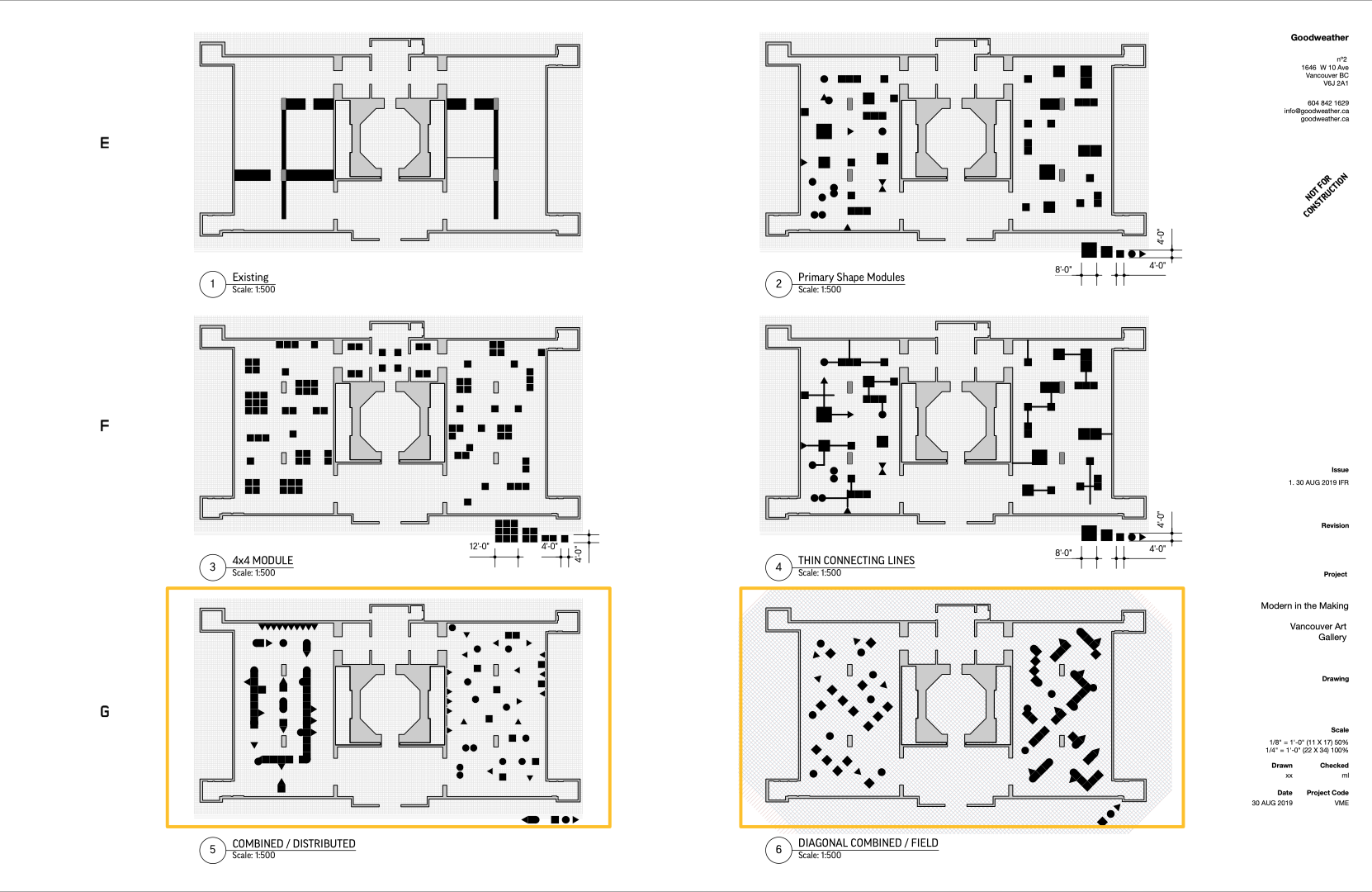 Drawing on some insights of the great
Bruno Munari
, we applied a design constraint to the geometry of the display units to help us manage the very large number of possible display configurations. We limited our palette to the primary geometry of the circle, the square and the triangle and their combinations.
The final design called for 3 shapes and 3 heights.

This provided us with very flexible and set of modules to play with to show all manner of things from chairs, to textiles, lamps, desks, bathing suits to small jewelry items.
A01
A02
we also used circles in the walls to display groups of pottery
more pottery, some lamps and a dress
PROVINCIAL ESSAYS

BOMBAST FURNITURE 1990-2019


Marked by an engagement with the modernist legacy, the Bombast product line is perhaps best understood as the material trace of what is in many ways a very personal learning curve. When we began in this business, we were too young and too inexperienced to know that our dream — participation in a global design culture — was "impossible" from the relative isolation that is our Vancouver home. That we are still at it remains a function of our unwillingness to accept the obvious.

- RUSSEL BAKER, BOMBAST FURNITURE
Goodweather is delighted to be working with Russell Baker, founder and principal designer of Bombast Furniture, on a monograph cataloging nearly 30 years of work as a furniture designer and manufacturer in Vancouver.
We have acquired a pile of photographs, sketches and drawings as well as various bits of ephemera and will be working towards the design and production of a document that attempts to capture the remarkable efforts and far reaching success of a very small but very potent furniture company making innovative and provocative modern designs in Vancouver in the most unlikely of circumstances.... ︎
WINTER SHELTER
PROVISIONAL STRUCTURES


Since 2015, Vancouver-based artist Carmen Papalia's practice has been grounded in the conceptual framework he terms Open Access. Through a set of five tenets Papalia draws on his experience as a non-visual learner, a term he chooses to identify with over the medicalizing terminology of "blind" or "visually impaired".

Emphasizing what he understands as an institution's social accessibility, the framework of Open Access advocates for an understanding of "accessibility as social practice"—a temporary experience that requires a relational approach to mutual care.

This installation spatializes several of Papalia's concepts around open access by employing a geometric organization of circles and ellipses resulting in a construction that problematizes and resolves ideas of concentricity, eccentricity, inner circle, outer circle, and 'other' circle.

Visitors can only access the installation in one of two distinct ways via separate entrances: Entrance 1 leads the visitor up a 60m long curving ramp to a vantage point over an inner circle below. The ramp is made of construction scaffolding and is designed to be wheelchair accessible.

Entrance 2 provides access to the inner circle via a path beneath the curving ramp. Papalia has employed red string as a guideline in several of his earlier works, and here red string is used again to act as a guideline to the inner circle.

The inner circle consists of a concentric arrangement of circular spaces; an innermost circle of benches with a diameter of 4m is surround by a series of 12 mirrored surfaces spaced evenly around a circle at 6m in diameter. The mirrors are in turn encircled by the curved scaffolding structure at a diameter of 8m. An acoustical hemispheric dome with a diameter of 6m is suspended above the inner circle of benches, defining a more intimate space that is both visually and sonically differentiated from the surrounding gallery space. The inner circle is a space for gathering, sharing, and reflection and where, over the course of the exhibition, Papalia will host a series of lectures and workshops dealing with Open Access.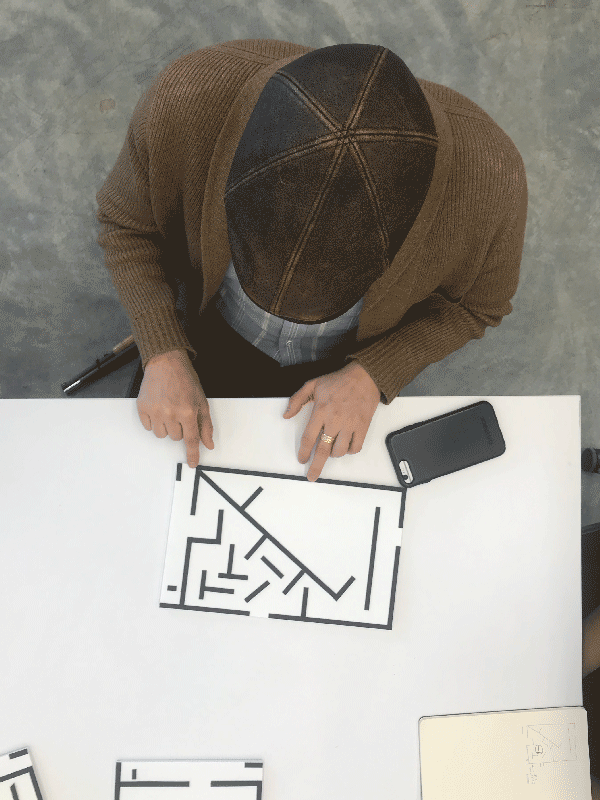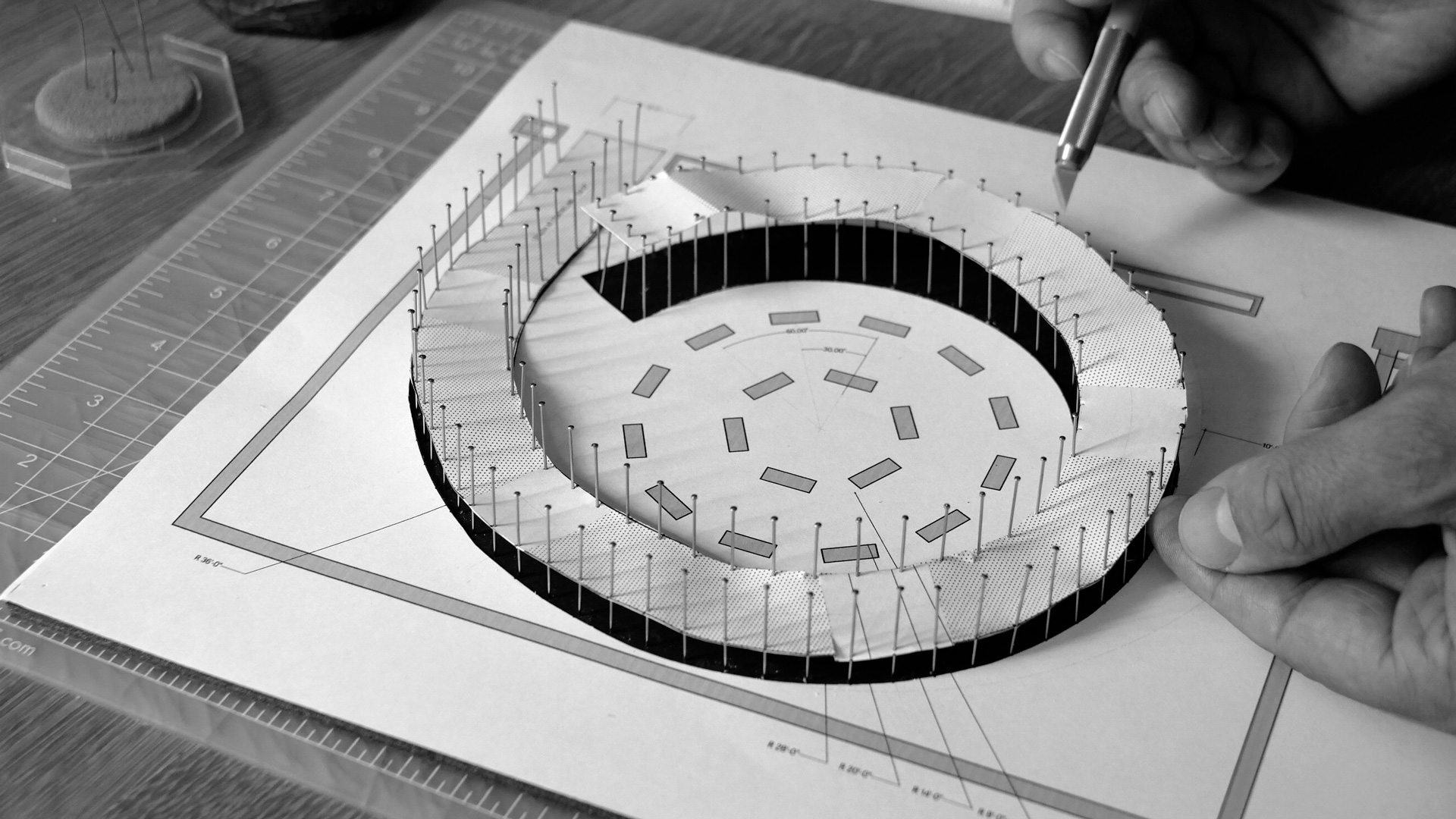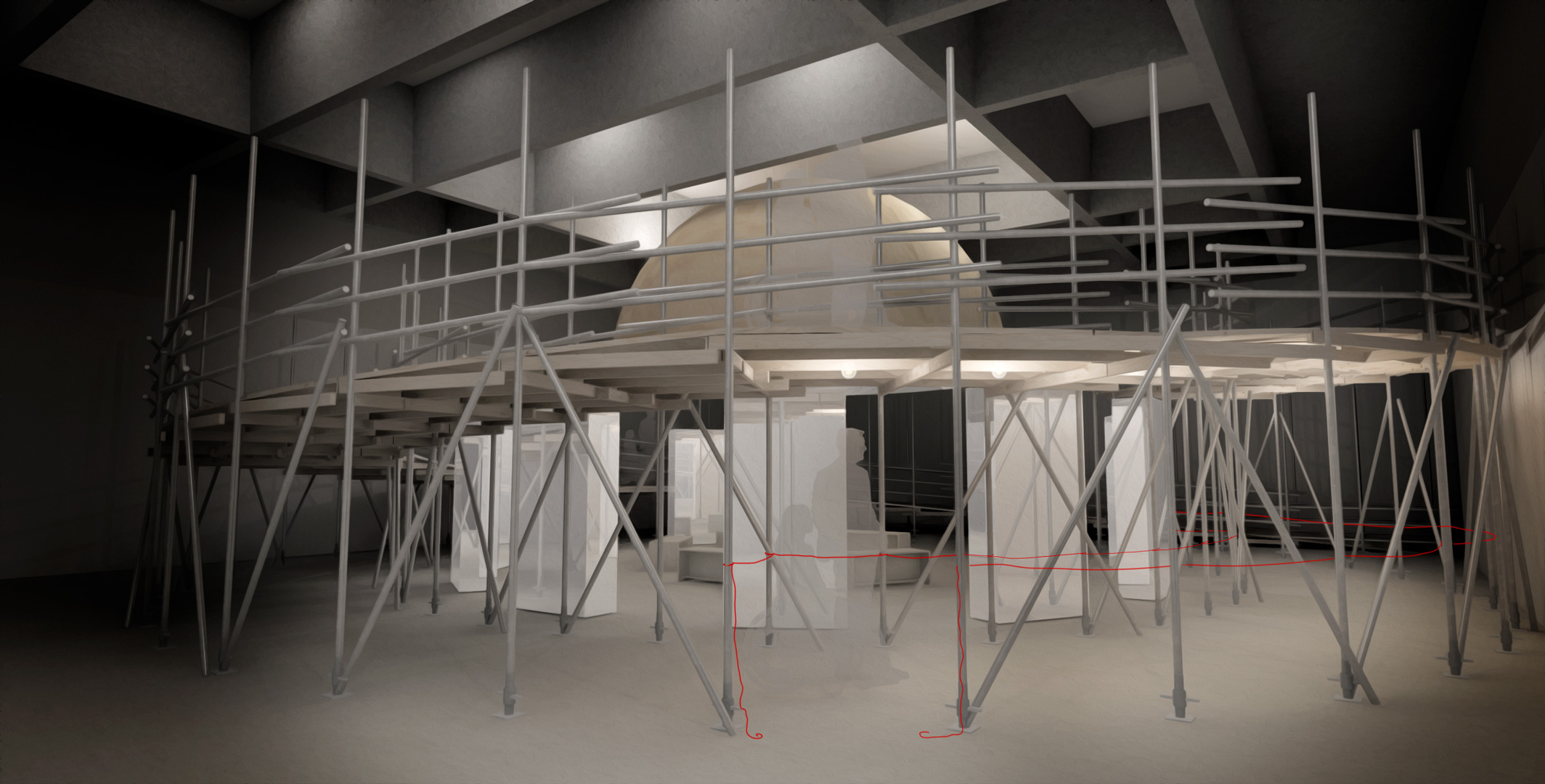 SHIGERU BAN : PAPER LOG HOUSE


VANCOUVER ART GALLERY OFFSITE
In 1995 a 6.9 magnitude earthquake struck the coast of Japan with its epicentre at the major port city of Kobe. More than 6,000 people were killed and 200,000 made homeless. A young Tokyo-based architect—Shigeru Ban—known for his innovative work utilizing paper and cardboard tubing as a building material, was invited to respond to the urgent need for temporary relief shelter. His interest in paper, with its low cost, easy accessibility and simple application, provided him with readymade materials to design and build a sturdy, economical and ecologically sustainable home for thousands who were displaced in the disaster. This simple building has become the prototype for similar disaster relief structures built around the world for the past twenty years.

Goodweather was commissioned to coordinate the fabrication and installation of an instance of this iconic building at the Vancouver Art Gallery Offsite location.